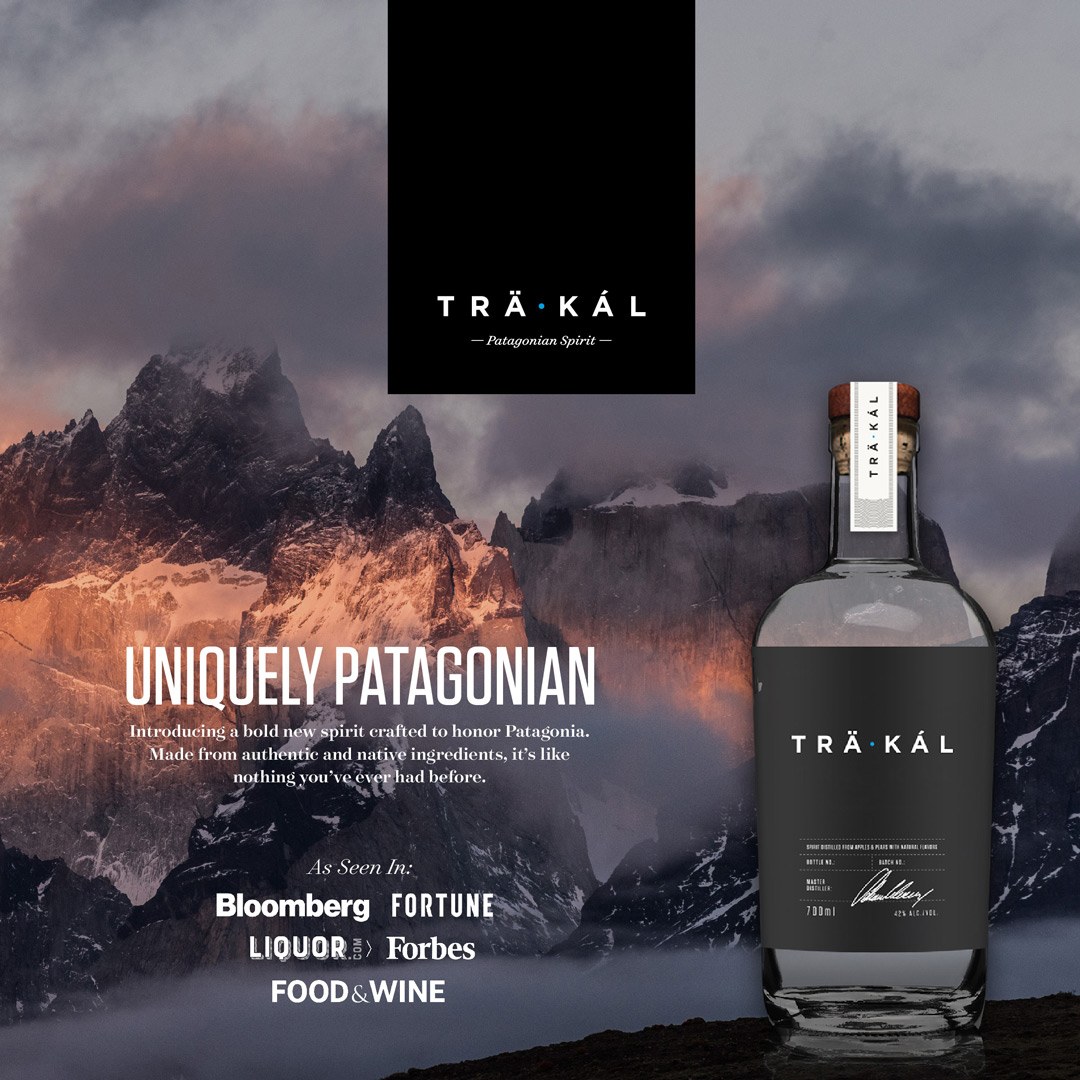 WHAT IS TRÄ•KÁL?
TRÄ•KÁL is a pioneering brand in a new generation of botanical spirits that doesn't fit into traditional categories.  TRÄ•KÁL is the first and only Patagonian Spirit.
‍
Everything that goes into a bottle of TRÄ•KÁL grows wild in the Chilean Patagonia. We use water, fruit, herbs and berries from within 100sq kilometers of our distillery to make this new type of botanical spirit.
PATAGONIA IN A BOTTLE
TRÄ•KÁL is a new type of spirit from Patagonia.
TRÄ•KÁL
700ML | 42% Alc/Vol.
$43.99
Local apples, crab-apples, and pears are used to create our base distillate. During the second distillation, juices of native berries such as maqui, murta, and sauco are blended with the base spirit. To overcome the hurdle of seasonally grown herbs, the master distiller's mother suggested making essential oils from each wild herb varietal in order to capture their essence year-round. We create a proprietary blend of herbal essential oils that includes tepa, laurel, mint, paramela, and canelo, which are vapor-infused in the third distillation — giving TRÄ•KÁL its unique flavor and viscosity.
Nose:
Crisp golden and honey crisp apples, herbal notes mixed with the sweetness of summer berries and minerality.
taste:
Herbal flavors mixed with ripe elderberry and maqui berry.  Bright notes of golden apples and ripe pears, with an undertone of bitter dark chocolate.
Finish:
Bold with a minty finish.
HOW TO DRINK TRÄ•KÁL
TRÄ•KÁL is delicious sipped neat, over a king cube, or served over ice with tonic and garnished with an orange wedge.

For cold seasons, pair TRÄ•KÁL with an apple cider and berries for a unique winter warmer. In summer, serve TRÄ•KÁL over ice with a handful of frozen blueberries and elderflower tonic or in a classic tropical cocktail, such as a Colada or a Mojito.
‍
See below for a few of our favorite recipes: